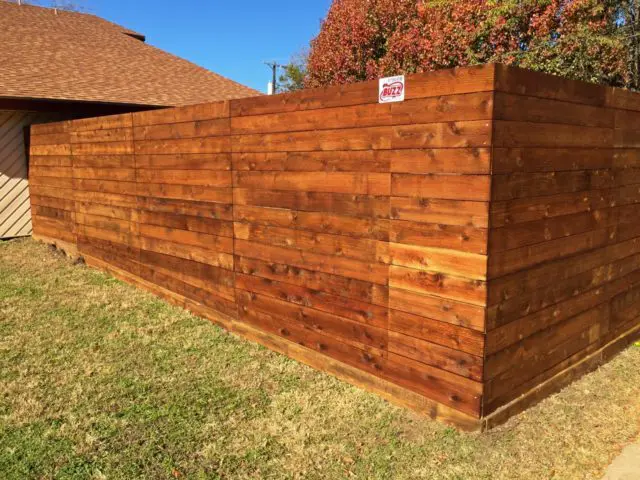 Choosing fence materials, colors and designs are just a part of finding the perfect fence to suit your security and aesthetic requirements. Two of the most important factors during your search for your perfect fence should be durability and longevity.
Although the style of your home, climate of your area and purpose of the fence play a large role in selecting the right fence material, it's best to understand what differentiates one fence material from another so you can pick the highest quality fence for your needs.
Wood Fences
The most commonly used wood types for fences are spruce, cedar and pine, so the longevity of your fence naturally depends on the type of wood it's made from. Cedar may last for 15-30 years, spruce may last for 4-7 years and pine may last for 5-12 years.
Treated wood, however, increases this longevity: pine and spruce may last for 20 years and cedar may last up to 40 years. Keep in mind that one of the biggest culprits to diminishing your fence's longevity is moisture. If one of your fence panels or pickets touches the ground, they'll be affected by moisture, which can reduce the life by up to three years. You can avoid this by ensuring that the posts are treated or stained and have concrete or gravel filler in their post holes to keep out moisture.
Another thing to keep in mind with wood fences is the maintenance—you need to regularly maintain your fence to keep it from aging. Stain and paint your fence, then re-stain every two years and paint every four years.
Metal Fences
Metal fences are the sturdy option that comes in three types: chain link, wrought iron or aluminum. Chain-link is the most inexpensive and long-lasting, although it does provide a more industrial look (not the best for those who want a more decorative aesthetic).
If you do seek a more decorative look and want a metal fence, opt for wrought iron. Wrought iron and aluminum fences combine beauty and strength and can be shaped into unique designs. You can also odd ornamental applications and other fence accessories for artistic embellishments while still enjoying the durability of a metal fence.
As far as maintenance goes, wrought-iron requires a rust-resistant finish every few years to avoid corrosion.
Vinyl Fences
Vinyl fences or PVC fences are quickly growing in popularity. They are durable and relatively maintenance-free—just hose it off with some water. While color options are limited, vinyl fences are available in a wide range of styles including picket, lattice, privacy, and even split-rail.
How Long Does a Vinyl Fence Last?
Vinyl fences require little maintenance and are highly durable which allows them to last for 20 or more years with proper care. In fact, the International Association of Certified Home Inspectors places the lifespan estimate of polyvinyl , but that would be assuming it doesn't get damaged in the meantime. Some tips for extending the lifespan of your vinyl fence can be found here.
One reason why it's easy for vinyl fences to last longer than wood is due to the fact that they don't decay. While wood can start rotting if it's not regularly retreated, vinyl does not, meaning it can easily last for decades, especially if you take care to protect it from damage.
modern vinyl fences are made using titanium oxide to protect them from UV rays, making them more resistant to sunlight. Modern vinyl is also a durable material made of high-tech polyvinyl, meaning it tends to resist damage better than wood, making it great for pet owners or families with children.
What Type of Fence Lasts the Longest?
Chain-link fences with a galvanized finish that doesn't rust are the longest lasting fences. All other components of the fence are made of steel and are also galvanized, so there is relatively no maintenance. Even the American Fence Association agrees, finding that chain-link fences are economical and secure.
Chain link comes in a variety of vinyl-coated options aside from durability, chain-link fences can also be customizable without losing the homeowner's visibility.
Frequently Asked Questions
How long should a fence last?
A well-built and maintained fence should last for 15 to 20 years with proper care.
What is the most durable fence?
The most durable fence is the one that is properly built and maintained! That aside, iron, aluminum, cedar, and vinyl fences tend to be the most durable.
Does staining a fence make it last longer?
Yes. Staining a fence protects it against water damage, rot, insects, and day to day wear and tear.
How long do fence posts last?
Fence posts, like your fence, should last for 15 to 20 years if properly installed and maintained.
Does vinyl fencing last longer than wood?
It depends on how well each is maintained. Treated wooden fences can last a long time, but only if they are kept protected from moisture and bugs. Vinyl, however, requires much less maintenance, so it can easily last 20 years or more with minimal care.
Do vinyl fences break easily?
It depends on the quality of the fence, but modern vinyl fencing materials have five times the tensile strength of wood, so it's comparatively difficult to break.
When trying to decide the type of materials you want to use to build your fence, do your research or consult our professionals at Buzz Custom Fence to help you find the right fence for you!