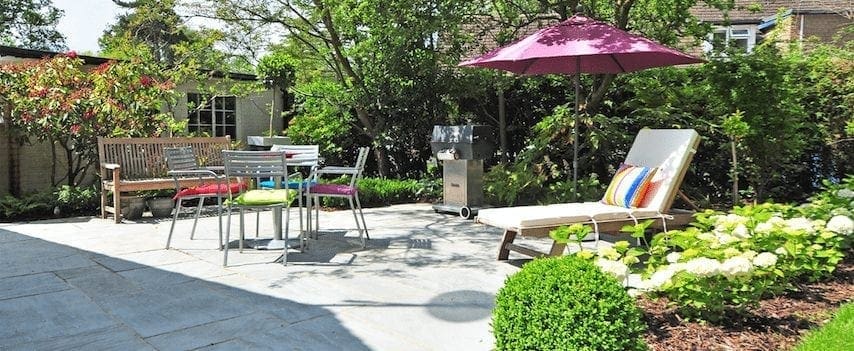 It's officially summer! And that means going outside—if you can tear yourself away from the A/C, at least in the evening or early morning. Whether you're an enthusiastic home entertainer or someone who yearns to sneak a little solitude, an alluring patio makes you want to spend time outdoors. We're not recommending any major overhauls here—it's too hot, so leave the heavy lifting to professionals—but here are a few ideas to make your patio more paradisiacal while hardly breaking a sweat.
Garden furniture revamp
Do you like to shop? Are you crafty? Hit the garage sales or resale stores to find rattan chairs or other pieces you can repurpose for your patio. Paint a wooden chair with a color that pops. Trendy colors for 2019 include dusty pink, dark green and medium shades of blue. Or pick whatever makes you happy, whether it's daffodil yellow or black as sin, trends be darned. Personalize your furniture with stencils picked up at your local art store. This is super easy and gives your patio loads of personality. For ultimate luxury, bring home a new or used chaise lounge.
Outdoor textiles
Just because you're outside doesn't mean you have to forego beautiful textiles. Once you get your garden furniture sorted, find an outdoor rug to make your patio resemble a proper room. Add some matching or contrasting throw pillows in weather-resistant material. Remember to bring them inside before a storm—there's a limit to what even hardworking outdoor textiles should have to endure.

Lighting
If you want to enjoy your patio after dark, you'll need lighting. In our great state of Texas, we favor solar because it's both eco and free. Solar garden stakes come in everything from discreet and unobtrusive to adorned with light-up hummingbirds, tractors and ladybugs. Another ultra-lazy DIY lighting solution: cute strings of chili pepper or cactus lights strung on trellises.
Add the element of fire
Ever since prehistoric times, cavemen have demanded a fire element for their patios. How else could they roast brontosaurus chunks? Nowadays we're more likely to crave s'mores, but same idea.
Bring fire into your yard by lugging home a portable, gas-powered fireplace. Or you can create something more DIY with pavers, retaining wall blocks and sand. No grout required! If you've decommissioned a garden pond, you already have the makings of a perfect fire pit, as ponds are usually lined with non-combustible rocks. Outsmart those koi-loving raccoons by turning your fish pond into a fire pit.
Not so DIY
So you're toasting your marshmallows over your new DIY fire pit, seated on a lovely dark green chaise under strings of lights shaped like wee cowboy boots. But something's still missing. A pergola? A gazebo? A better fence? For a normal person, there's a limit to how much DIY they want to take on. That's where your friends at Buzz come in. Give us a holler and we'll make sure the fence and gate infrastructure is up to snuff for your patio paradise.